main - artwork - lyrics/mp3
- - - - -
CDR - events - photos - excuses - email me!


ruminations on recurring themes of decay and decrepitude
Hehe, these are old. They are from when the album only had ten songs.
Front cover: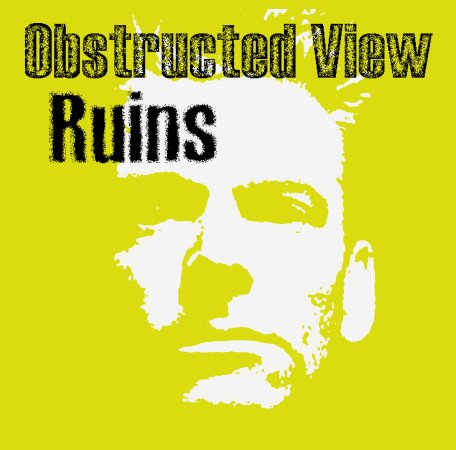 Back cover: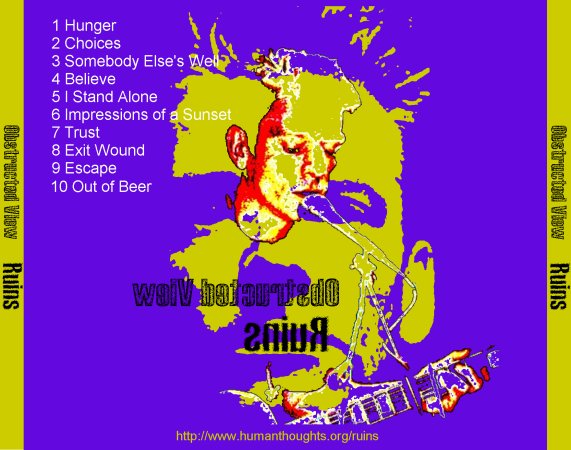 Inside front cover: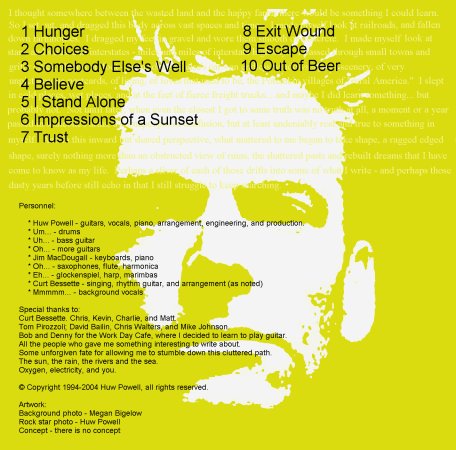 Go read the text behind the songlist.
Personnel:
Huw Powell - guitars, vocals, piano, arrangement, engineering, and production.
Um... - drums
Uh... - bass guitar
Oh... - more guitars
Jim MacDougall - keyboards, piano
Oh... - saxophones, flute, harmonica
Eh... - glockenspiel, harp, marimbas
Curt Bessette - singing, rhythm guitar, and arrangement (as noted)
Mmmmm... - background vocals
Special thanks to:


Curt Bessette. Chris, Kevin, Charlie, and Matt.
Tom Pirozzoli; David Bailin, Chris Walters, and Mike Johnson.
Bob and Denny for the Work Day Cafe, where I decided to learn to play guitar.
All the people who gave me something interesting to write about.
Some unforgiven fate for allowing me to stumble down this cluttered path.
The sun, the rain, the rivers and the sea.
Oxygen, electricity, and you.

© Copyright 1994-2004 Huw Powell, all rights reserved.

Artwork:
Background photo - Megan Bigelow
Rock star photo - Huw Powell
Concept - there is no concept

CD artwork: